Believe it or not, Budapest is in fact full of farmers' markets, flea markets, and rug-fairs, where stalls full of goods stretch as far as the eye can see, and the air buzzes with the thrill of discovery.
Treasure Hunt On: 5 Awesome Markets to Discover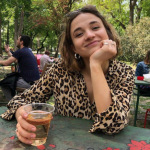 GYÖRGY MÁRIA • 2023. JUL. 6.
You can read the original story at Funzine!
Gozsdu Weekend Market
The unmatched Gozsdu Weekend Market has been a solid rock of the Party District for nine years, attracting hundreds of bargain-hunters to the 220-meter-long passage of the popular Gozsdu Udvar. Indulge your passion for all things retro and vintage, as you peruse through the eclectic assortment of carefully curated finds, and explore stalls brimming with contemporary art and design gems. But it's not just about shopping – immerse yourself in the lively ambiance and enjoy the occasional extra programs such as workshops and live performances. The market is open every Friday, Saturday and Sunday, from 10 AM to 5 PM, regardless of the weather conditions.
1075 Budapest, Király utca 13. – Dob utca 16. |Website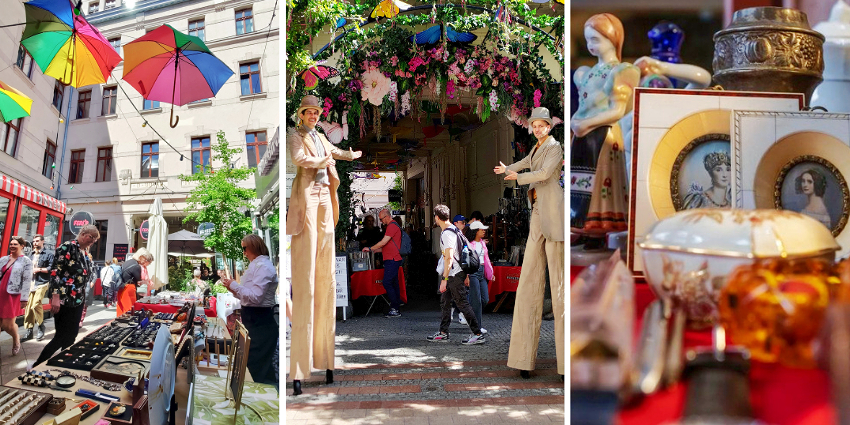 Photo: Gozsdu Market
Pancs Gasztroplacc
Located near Corvin-negyed, the vibrant Pancs Gasztroplacc gastro market is renowned for its commitment to sourcing and showcasing the finest local products, including an abundant selection of seasonal fruits, vegetables, farm-fresh eggs, and artisan pastries that will indulge your taste buds. Along with traditional market items, you can also find several delicacies such as excellent meat products, local wines, tea specialties, and tasty juices. A special guest from the world of gastronomy is invited every month to host a community outdoor cooking, all meals of which are prepared using ingredients supplied by local producers. In case you miss out on the market but you are still interested in local products, visit the zero waste Pancs Store, which you can find at three different locations in Budapest.
1094 Budapest, Tűzoltó utca 22. |Website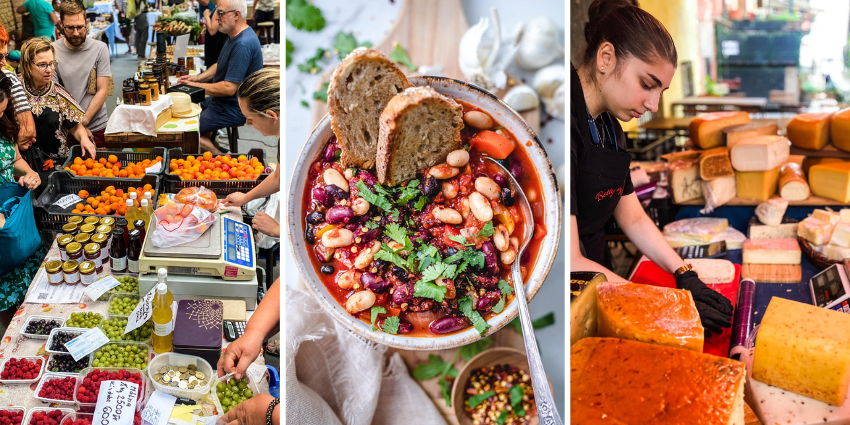 Photo: Pancs Gasztroplacc
Czakó Termelői Piacz
The extremely popular Czakó farmers' market, located in the heart of the city, in a scenic neighborhood, offers freshly harvested fruits and vegetables, sourced directly from local producers who pour their heart and soul into cultivating the finest produce. From juicy strawberries and crisp apples to leafy greens and fragrant herbs, you can also find divine cheese selections, as well as seasonal flowers and plants, too. It is not only a marketplace but also serves as a vibrant community space where everyone shares the same principles: contributing to sustainability and supporting local farmers.
1016 Budapest, Tigris utca 62. |Website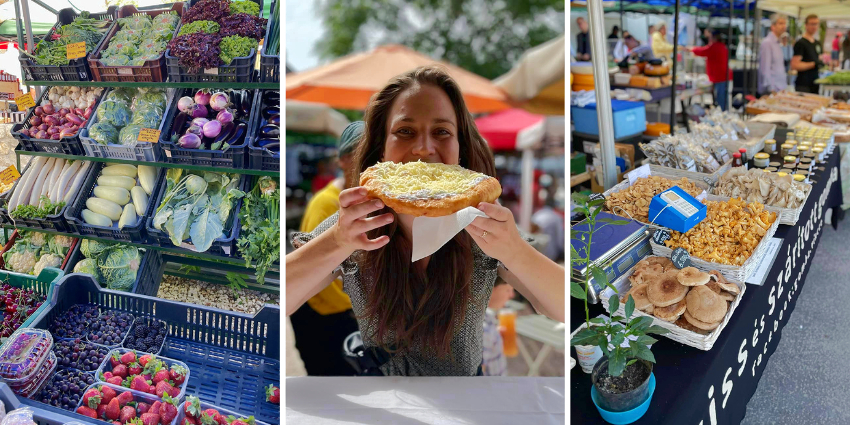 Photo: Czakó Kert
Central Market Hall
Step into a gastronomic wonderland in the heart of Budapest: the iconic Central Market Hall, located in a magnificent 19th century building invites you on a sensory journey through the flavors, aromas, and traditions of Hungary. Immerse yourself in the buzzing atmosphere, as both locals and visitors gather to get lost in the abundance of fresh fruits, vegetables, aromatic spices, and fragrant herbs. If you are hungry, head to the upper floor, where a mouth-watering array of traditional Hungarian dishes await. You can also try the unique tastes of Hungary, including local pastries, high-quality wines, and the world-famous pálinka.
1093 Budapest, Vámház körút 1-3. |Website
Photo: Central Market Hall – Nagycsarnok Facebook
Magma+ Hungarian Art & Design
Looking for the perfect souvenir to surprise your loved ones after your trip to Budapest? Are you bored of tacky magnets and lame T-shirts, and would appreciate something more unique and personal while also supporting local artists? If the answer is yes to either one of these questions, visit the cozy giftshop of Magma+ which offers a wide range of one-of-a-kind treasures made by Hungarian artists and designers. The collection includes glass, bijou, textile, leather, and stationery products, along with ceramics, paintings, and design objects.
1014 Budapest, Úri utca 26-28. |Website